What's in a cache?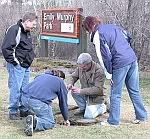 Wow, what a very cool day. We spent it with about 30 of our closest (brand-new) friends....a bunch of GeoCachers from the Edmonton area.
This was a special day for more than one reason; First, it was our first CITO (Cache In, Trash Out) event. We cleaned up a small portion of Emily Murphey Park.
Second, it was the birthday of one of the coolest GeoCachers in the city...a guy with extensive bush knowledge and experience (goes by the moniker of Bush Creatures).
Third, we were able to meet up with some cool folk that we'd only bumped into online...now we have 'social/face time' with them.
All in all, a great day. Check out a more detailed report on the GeoCaching Edmonton community website at http://GeoCachingEdmonton.com.
Source: GeoCaching Edmonton
Technorati Tags: GeoCaching, Edmonton, Outdoor, Canada, Alberta, Hiking, CITO, Clean-Up, Trek, Birthday, Party, Clown